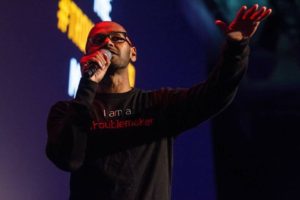 Did you miss our last show, Or Current Resident? Check out our speaker that we featured after the show!
Impactful. Intriguing. Innovative. These are just a few of the adjectives that describe Mohan Sivaloganathan. Sivaloganathan, aka Ahmen, has 9 years of experience as a nonprofit leader, currently serving as the Executive Director of the northeast branch of The Mission Continues, an organization dedicated to empowering veterans who are adjusting to life at home to find purpose through community impact. As a nonprofit leader by day and hip-hop MC by night, Sivaloganathan is known as the "Batman of Social Impact." In the greatest spirit of hip-hop and leadership, Sivaloganathan is an avid opponent of the status quo. He breaks boundaries as a performer, activist, and speaker in order to stir things up while catalyzing voices and positive action among everyday people. Most important, Sivaloganathan has achieved unprecedented levels of success in his endeavors, from releasing his groundbreaking music on ESPN and HipHopDX, to partnering for social change with some of the world's top companies. He is truly a highly effective modern rebel with a cause. Far from a single-issue activist, his diverse history in the nonprofit sector includes a focus on encouraging social impact via the discovery of empathy during these increasingly divided times, and the power of service to collectively advance our nation. He is also considered an expert on the role of innovation and collaboration within the fields of justice reform, early childhood education, violence prevention, mental health, and youth development.
The ultra octane activist's inspiring portfolio includes fostering reduced gun violence by 90% in Far Rockaway, New York (once one of NY's most dangerous communities), helping over 1,300 low-income children every year meet or exceed developmental standards, and launching fatherhood and juvenile justice reform programs that have spread throughout all of New York City. Prior to his role at The Mission Continues, Sivaloganathan served as SVP and Chief development officer at Sheltering Arms. Other speaking experience includes: IFC 2017, NYU Social Innovation Summit 2017, New Frontiers 2016, Frank 2016, Embark 2015, and INBOUND 2015.