New Relationships, New Endeavors,
Same Innovative Theatre

Squeaky Bicycle has just started making its mark as an innovative, risk-taking indie theatre company, and this year we're taking big new steps to reach even greater heights! How are we doing that? With 2 brand new full-length plays, our first ever short play festival, a dynamic company of resident artists, and gutsy new programming, all at our new home: Theater for the New City.
Of course, all of this is possible thanks to the incredible support of our artists, patrons, and donors. We hope that you'll consider being a part of our 2016-2017 Fundraising Campaign – "There's No Place Like Home" – with a gift to support our new projects, and the bold steps we plan to take in the years to come.
Take a look below to see what's coming, and how you can help make it happen!  
Our Highly Anticipated New Year:

The Shows
2017 Reading Lab
Our 6th annual Reading Lab is two nights of challenging relationships, urgent social issues, real human connections, and insights into the idea of identity. Coming January 23, we bring you:
Pinned Butterfly
By Adam Esquenazi Douglas
When the members of BKPRIDE decide to hold the very first Brooklyn Gay Pride March…everything explodes. As marching drums beat in the distance, war brews among lovers, enemies, and hearts.
Dead Man's Dinner – World Premiere
By W.M. Akers
After ten years of siege, three women are trapped in the middle of the most dangerous war zone in the world: the Upper West Side. In a frigid rent-stabilized apartment, Olympia and her daughter Petra have spent years surviving any way they can. When Petra falls in love with Jackie, an injured soldier, their food supplies are stretched to the limit. As death creeps closer, each woman will be torn between love and hunger—and hunger always wins.
For the third time, Squeaky Bicycle teams up with Resident Playwright W.M. Akers to bring you a play that's funny, touching, and daring.
Squeaky Bicycle is committed to giving a voice to communities and issues that need it. Just as we've come to expect, W.M. Akers yet again shows that women are anything but weak or victims – Dead Man's Dinner tells the story of three remarkable, badass women in the direst possible situation. Pinned Butterfly takes on the challenging relationship the LGBT community has with their B, and provides a perspective that has long been unheard from a subcommunity that often feels invisible. Finally, our Velodrome programming provides a safe space for courageous artists to take risks and tackle a host of daring and urgent topics.
We hope that you'll help us tell the world that these stories matter with a tax-deductible donation.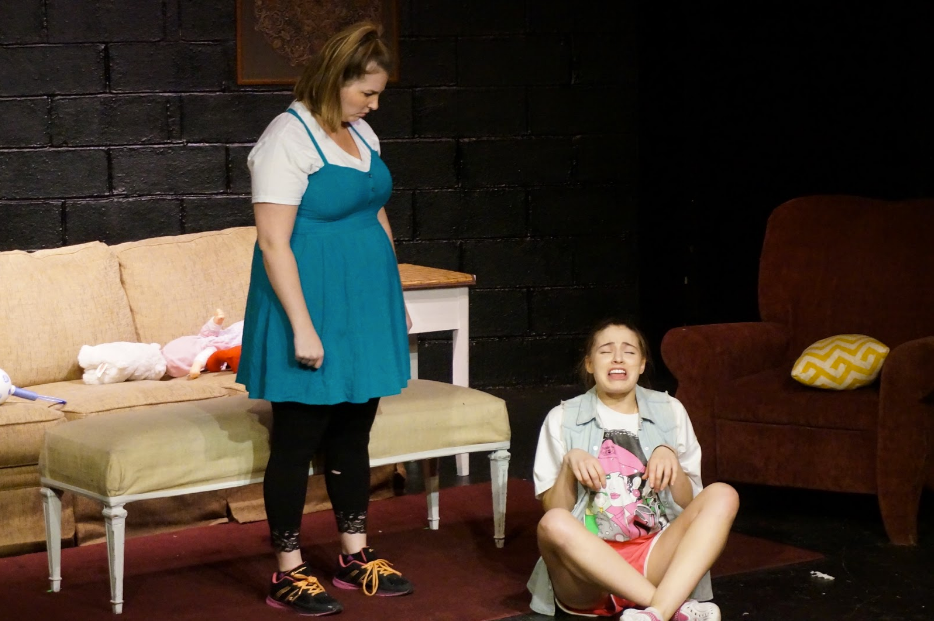 Kate Russo and Rachel Drayke in The Unconventional Convention
The New Endeavor
2016 was a year filled with new ventures as we began our year long residence at Theater for the New City, further expanded our resident artist company, and brought audiences our first ever short play festival.
In October, we unveiled a new program that will serve as a breeding ground for new works and courageous performances with The Unconventional Convention: Short Plays with Tons to Say. The show was an evening that took dives into topics like mental illness, depression and isolation, bullying and identity, and the enormity of change. We served up short plays that packed a punch with a heaping side of humor. It was the first public performance of our resident company, The Velodrome: A one-of-a-kind theatre artist training ground

Velodrome: n – A velodrome is an arena for track cycling. Bicycles for velodromes have no brakes, which means they are constantly moving forward at varying speeds.

The Velodrome Company is an artistic community in which every member is encouraged to continue moving forward in his/her art. Every person's place in "the race" is honored: playwrights develop new material, directors provide feedback and explore their technique, and actors investigate old and new works alike, exploring their unique approach to their craft. We explore, we support, and we offer an environment in which all artists are able to fearlessly hone their craft and spur each other on to new artistic heights.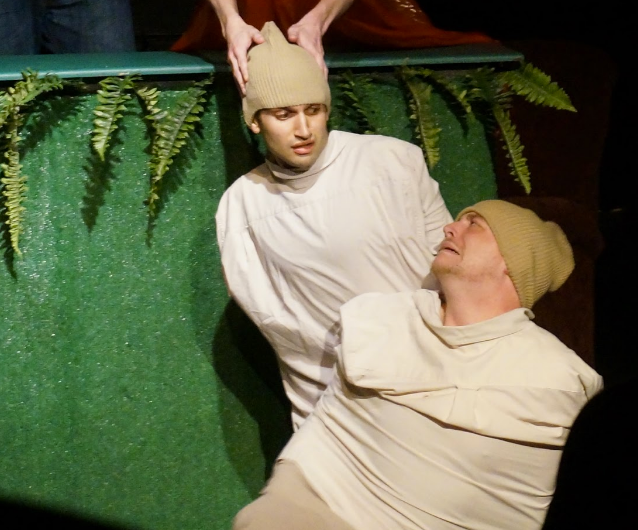 Michael Menta and Curry Whitmire* in The Unconventional Convention
Guts & Glory
The Velodrome Company meets monthly on projects designed to hone our skills, and keep our instruments sharp. Every 3 months, we'll present a public event called Guts & Glory. It's a battle royale: Participants compete with scenes, and are judged by the audience to determine the Grand Champion of each themed theatrical event. Champions get to pick the next event theme, and get fabulous prizes, not to mention GLORY. Participating short pieces will be judged on originality, collaboration, entertainment value, and overall cojones.
You can join us for the first Guts & Glory in May 2017!
The Relationships
Squeaky Bike has been teaming up with stellar artists since we started, and this year we're taking it to the next level.
The 2016-2017 season features the best collaboration with Resident Playwright W.M. Akers yet – in our admittedly biased opinion. Crafted through an 18-month development process, we've helped him give life to three badass women battling real, relatable demons in post apocalyptic New York.
The Velodrome Company features the joining of a brilliantly talented group of writers, directors, and actors with immense drive and a bold willingness to take artistic risks. With their powers combined, the Velodrome Company is capable of more than Captain Planet could have dreamed!
Finally, it features a new and exciting relationship with Theater for the New City as one of their resident companies! We're thrilled to be able to present our seventh season in such an innovative and welcoming home, and are excited to be able to share this experience with all of you. Like Squeaky Bike, TNC produces only new work: all premieres, and they stay with a playwright over the course of several works, supporting them as they grow. TNC's Resident Theater Program produces 20-30 new plays per year, and has an impressive list of successes under its belt, including major award winners and off-Broadway transfers. Learn more about the program here.

We're grateful for this partnership and for the consistently incredible work hosted by TNC. It's going to be an excellent year!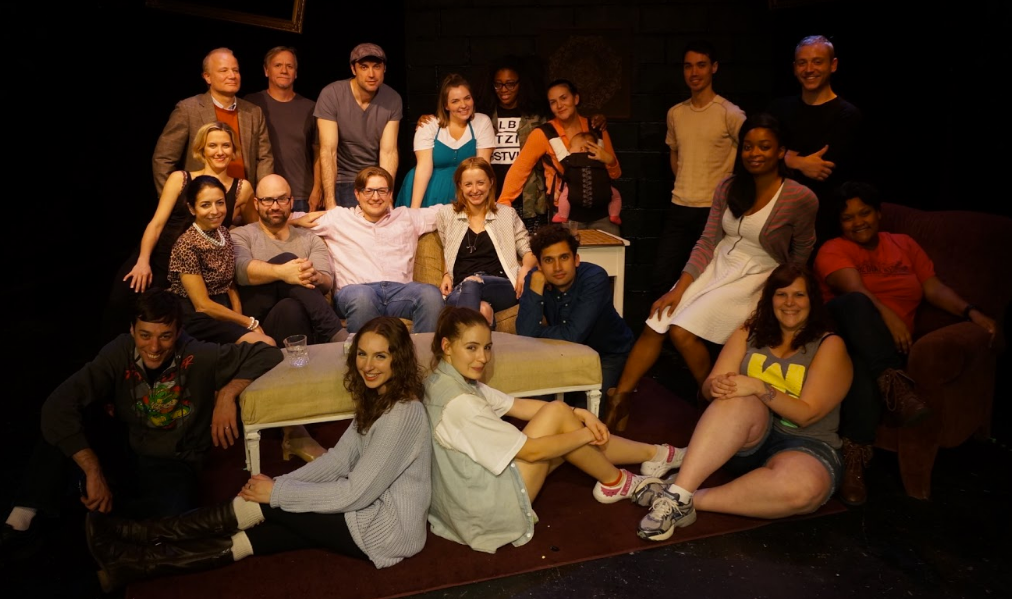 Members of the Velodrome Company
The Future!
We hope you didn't think we were planning to stop movin' on up this year, because we already have some very cool things in the works for the 2017-2018 season. It'll include yet another fully staged production developed through our Reading Lab series – Joan Bigwood's Or Current Resident, a play that dives into how technology changes our relationships, and what happens when we don't face our demons head on.
There's even more in the works, but we can't give it all away just yet. No matter what,  you know it'll be great. The last 5 seasons have proved that we'll continue pushing boundaries and making waves. don't know any direction to go but up!
How You Can Be Part of It
Our 2016-2017 season gives a voice to the kind of people our world needs to hear more from. It features strong women with complex motives and wills of iron. It explores the ways that even within marginalized communities, privilege and prejudice can poison the waters and keep their members quiet and ashamed. 
And we're doing all of this with humor, energy, and vibrancy thanks to the talent and courage of artists who must be given a home where they can thrive, grow, explore, and do their part to help change the world.
None of that is possible without you.
The money we raise through our campaign will take care of a portion of the production costs associated with presenting a dynamic season of new plays in one of the most expensive cities in the world. These plays will challenge the way we think and talk about vital, timely subjects. Those costs include:
Publicity and PR

Prop and set materials

Actor and designer stipends

Insurance

Rehearsal space rental
In exchange, you get to be an integral part of a company dedicated to telling the stories of communities whose voices need to be heard. This is our attempt to do our part, but we can't do it without you!
And don't forget: all contributions are Tax Deductible! 
Everything raised will go directly to producing innovative new works with stories that deserve to be told. We hope you'll help us bring them to life!
Click here to be part of our 2016-2017 Season
You can find even more details about Squeaky Bicycle Productions at www.squeakybicycle.com and http://www.facebook.com/squeakybicycle
Squeaky Bicycle Productions is a sponsored project of Fractured Atlas, a non-profit arts service organization. Contributions for the charitable purposes of Squeaky Bicycle Productions must be made payable to Fractured Atlas only and are tax-deductible to the extent permitted by law.