Theater for the New City
Crystal Field, Executive Director,
Presents,
Resident Company Squeaky Bicycle Productions'
Or Current Resident by Joan Bigwood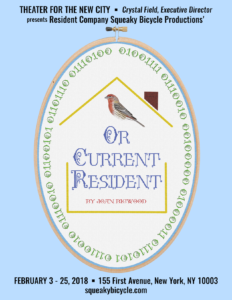 The multi-generational Finches have weathered a rapidly-changing community in the heart of Silicon Valley crammed together in rambunctious harmony. Or Current Resident throws the covers off an eccentric little universe that has survived on fortitude and self-deception; a universe that now lies shivering in the cold glare of unexpected, untenable revelations.
Directed by Brandi Varnell
Featuring:
Lydia Gladstone*
Bettina Goolsby
Krystle N. Adams*
Curry Whitmire*
Carly King
Michael Vitaly Sázonov*
Lighting Design: S. "Stoli" Stolnack
Set Design: Meg McGuigan
Sound Design: Megan Culley
Stage Manager: Jessi Cotter
Assistant Stage Manager: Amanda Browne
Production Manager: Kathryn McConnell
Assistant Production Manager: Jen McAuliffe
Publicity: Jonathan Slaff
Evening Shows (8pm)
February 3rd, 5th, 8th, 9th, 10th, 12th, 15th, 16th, 17th, 22nd, 23rd, and 24th.
Matinees (3pm)
February 4th, 11th, 18th, and 25th.
90 minutes, no intermission
-There will be a talkback following the February 11th performance
-The February 12th performance is Pay What You Will. Use code PWYW, and consider making a donation online or at the theatre.
*Appearing courtesy Actors' Equity Association

The Full 2017-2018 Season:
All Guts and Some Glory
The Velodrome Company proudly presents this pay-what-you-will event that can't (and shouldn't) be missed! Coming this Fall, we invite you to join us for a competition of original scenes. Local writers, actors, directors and more will come together to compete for all the glory they can dream of (not to mention a respectable bar tab). But wait, there's more… You play an important role in this event too- the judges! At the end of the night, you get to decide who made you laugh the hardest or cry the loudest (or who made you do both!).
Check back soon for more information regarding dates!
Or Current Resident
by Joan Bigwood
Teddy Finch returns home from Folsom Prison to find that his multi-generational family has kept more than just the home fires burning. While the tech boom of Silicon Valley encroaches on their fragile habitat, the Finches confront the dangerous effects of technology on their way of life, discovering what can happen when we don't face our demons head on.
This play was featured in our 2016 Reading Lab, and has been in development since then. As a full production, Or Current Resident will run for at least three weekends in Spring of 2018!
2017-2018 Annual Reading Lab
Our 7th annual Reading Lab. These Equity Staged Readings will feature two brand new, unproduced plays in the middle of their development phase. The readings will lead to quality discussion, debate, and revision facilitated by resident Dramaturg, Kathryn McConnell. We will conclude the readings with a talk-back with the playwrights, which will help them to move their work to the next level of excellence. Come out to experience the real behind-the-scenes magic that gives birth to amazing theater!
2018 Annual Benefit Show
Join us for a night of fun in May of 2018 as we present curated material and host a silent auction in an effort to fundraise for our season! There will be laughter, engaging art, and spirited entertainment by the Velodrome Company. We have also invited some very special guests who'll be featured during the night's festivities.
Be sure to stay tuned for more info, coming soon!