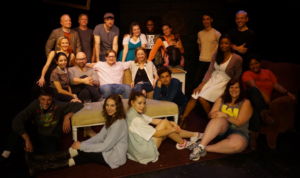 We hope you had a wonderful Thanksgiving, and have filled both your heart and your stomach by now. It's the time of year where giving selflessly is socially acceptable, so if you haven't spent your entire 401K on Amazon Prime deals, we need you! (or if you have, that's fine too – you do you, boo-boo!).
As you may know, today is #GivingTuesday, and we hope you have a little extra to help us as we continue to develop theatre that gives voice to the issues and communities that need it. We would be grateful for any gifts you could share with us this holiday season.
We know you won't forget about us, and we could never forget about you! In the next few weeks, we're going to have all sorts of exciting announcements for you, because we are starting 2018 out with a bang! So stay tuned and thank you so much for your support of Squeaky Bicycle Productions!
Thanks in advance for your support!