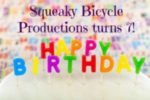 Did you know that Squeaky Bicycle just celebrated a birthday? Yesterday, we turned 7 years old! This amazing feat was possible only because of you and your constant love and support. As we all know, growing older means (unfortunately) growing up. While we haven't turned in our childhood bicycles, we do need to upgrade our tassels a bit – and we need you to make that possible!
As part of our birthday celebration, we recently launched our New Wheels fundraising campaign. We are trying to meet our goal of $700
in 7 days
in order to keep bringing you new, brilliant work by amazingly talented artists. This flash fundraiser ends
tomorrow
, so we encourage you to visit 
here 
to give whatever you can! Help us reach our awkward tween years. All proceeds go to support our upcoming 2017-2018 season of wonderfully entertaining productions!
Just what does that upcoming season include? So glad you asked! Click here to see what's coming for our 2017-2018 season!